COVID-19
Health & Safety¶
Effective June 15, 2021, we will no longer require customers to wear masks to enter the bank. We strongly encourage non-vaccinated people over the age of two without disabilities or underlying medical conditions to wear face coverings when inside one of our branch banking locations. This policy is in line with CDC recommendations regarding the use of face coverings to help prevent the spread of COVID-19.
We communicate this policy to all visitors through signage at bank entrances. We have face coverings available at bank entrances for customers who do not have their own. Although we may encourage our customers to wear face coverings in accordance with public health recommendations, we are also allowing face shields.

Open a New Account¶
Open your account online through our .BANK site here! Don't know which account you are interested in? Click here for all of our personal account options, and select "Apply Now" under the option that best fits your needs.
More comfortable opening an account in person? Call us at 805 965 5942 to make an appointment so we can minimize your wait time and ensure safe social distancing practices while one of our banking experts assists you in selecting the product that is best for you.
Frequently Asked Questions
What steps are you taking to prevent the transmission of COVID-19?¶
We are providing disinfecting wipes to enable staff to regularly clean high traffic areas, including wiping down and sanitizing ATMs and Night Drop containers.
We are working with our janitorial service to ensure that all high-touch areas are cleaned nightly in all common areas.
A medical-grade cleaning program has been evaluated and is ready to be dispatched as needed.
Hand sanitizing stations are being made available at the entrance to each branch.
Our employees have been provided gloves for protection against handling cash.
Can I still call the Bank?¶
Yes! We are here to help in any way we can. You may call our mainline (805 965 5942) or call any of our branches and offices directly:
How can I access bank services if I don't want to come in?¶
Deposits & Withdrawals¶
Download our Mobile App: Don't have mobile banking? Simply visit your app store and search for American Riviera Bank. You'll know it's us when you see the palm tree! Simply log in using your existing credentials, and we'll send you a one-time code to verify it's you. We've made recent updates that allow you to view your daily deposit limit in the app. Make sure you download the latest version.
Online and Mobile Banking: We invite you to take advantage of our mobile app to make deposits or conduct banking transactions online. Easily locate our online banking login box at the top of our new website. To sign up for mobile deposit, sign in to Online Banking and click Deposit Check (in the Transactions menu). Need help? Our Online Support team is available by phone at 805 880 7606 or via email at [email protected].
Are you a business customer? We have a remote deposit solution. Contact our Online Support team at 805 880 7606 or via email at [email protected].
Other Resources
Keep up-to-date with our blog, podcasts, and webinars, as well as with the following local, state and national sites:
Fraud
COVID Scams¶
We want to take a moment to warn you about fraudsters who hope to make your money their own. Fraudulent activity we have already seen:
Theft of Economic Impact Payments
Robo calls
Fake cures/test kits
COVID-19 fumigation/sterilization scams
If you get a call, email or message from someone telling you that you need to provide them with personal information or money in order for you to get your stimulus payment, do not respond! The IRS will not call asking you to provide anything as a condition for releasing funds.

Here are some signs the AARP has suggested you watch out for:
The caller or emailer uses the words "stimulus check" or "stimulus payment." The term that government officials are using is "economic-impact payment."
You're asked to sign your check over to the caller.
You receive an email, text or social media message saying that you need to verify your personal and/or banking information to speed up your stimulus payment.
The individual offers to get you your payment faster.
You receive a fake check, and then the sender tells you to call a number to verify your personal information in order to cash it.
You can also check out our COVID Scams flyer here, which includes tips about where to report scams affecting your friends and loved ones. The Consumer Financial Protection Bureau has some great information as well! Need to report a potential stimulus check scam? Visit the Report Phishing and Online Scams page at IRS.gov.

Scams¶
Source: California Department of Financial Protection and Innovation
Loan Modification and Foreclosure Scams ¶
Homeowners facing foreclosure should be aware of these common scams:
Deed-Transferring to Third Party – Scammers have told homeowners that by transferring the deed to their home to a third party, they will no longer be responsible for their mortgage payments. This is NOT true. Transferring a title does not relieve a borrower from their mortgage payments. Scam artists often ask for up-front fees to make the deed transfer and promise to rent the house back to the homeowner until the homeowner can afford to buy the house back. If you are facing foreclosure, investigate payment options with your mortgage servicer and do NOT sign your property away.
Intentional Default – Scam artists urge homeowners to not pay their mortgage in order to get a loan modification. While there is no right to a loan modification, the terms and standards for a loan modification are always determined by the mortgage loan servicer – no one else. If you are having difficulty making mortgage payments, you should contact your mortgage servicer directly or contact a HUD certified counselor (888-995-4673) for help.
Banks, credit unions, and mortgage lenders and servicers also have agreed to allow homeowners impacted by the COVID-19 pandemic to delay or reduce their mortgage payments for up to three months. See the DBO's COVID-19 Updates page.
Lending Scams¶
Advance Fee Scams – Consumers in need of cash should be alert to cash advance fee scams in which fraudulent companies promise loans if a consumer pays a substantial up-front fee first. Do NOT pay anyone asking for upfront/advance fees for loan modification services or mortgage forbearance services. Contact the California Department of Real Estate (DRE) immediately at 877-373-4542. Advance fees for loan modifications are NOT legal in California. In addition, collecting late fees is prohibited while a loan modification application is under review, a denial is being appealed, or a borrower is making timely payments.
Investment Related Scams¶
Investors should be wary of investment schemes promoting cures in connection with the current public health emergency, or other investment opportunities related to the economic downturn. Schemes may attempt to convince investors to liquidate their savings or sell their current holdings to purchase overvalued assets, assets that come with very high fees or assets of uncertain or questionable value, such as cryptocurrencies or precious metals.

Pension Advance Scams - The scam involves investors who provide funds to make cash advances and pensioners who are willing to turn over future pension payments in exchange for an immediate lump sum cash payment.
Opportunity Zones - An Opportunity Zone is an economically distressed community where new investments, under certain conditions, may be eligible for preferential tax treatment. These types of investments are available only through a Qualified Opportunity Fund (QOF). A QOF may invest in property or a business located in an opportunity zone. Investors considering these investments should consult with their qualified tax adviser because of the complex tax implications. Just because the property is located within an opportunity zone does not automatically make it a good investment. To the contrary, opportunity zones are economically distressed areas which pose additional risks.
Check Before You Invest¶
The Department of Financial Protection and Innovation encourages consumers to check the licensing status of companies prior to transacting business. California consumers should contact the Department to check on the licensing of companies offering loans, investments, or other financial services. This can be done by visiting the Licensee listing on the DFPI website or calling the Department's toll-free Consumer Services Office at (866) 275-2677.
How to Protect Yourself:¶
Before investing in any investment, ask questions about the risks and fees involved. Conduct your own independent research or seek the opinion of a financial professional who is registered with your local securities regulator.
Never invest in something you don't fully understand. Do not agree to participate in a general partnership or joint venture if you have no specific experience, knowledge or education in the type of business and would have to rely on others' expertise.
Beware of sales techniques that include repeated phone calls, cold calls, or high-pressure sales pitches hyping the profitability of the deal or promising a sure thing.
Do not be fooled by professional-looking websites boasting current productivity levels and profits and featuring photos of new production sites.
Phishing¶
Source: Secret Service
WASHINGTON - Criminals are opportunists, and as seen in the past, any major news event can become an opportunity for groups or individuals with malicious intentions. The Coronavirus is no different. In fact, the Coronavirus is a prime opportunity for enterprising criminals because it plays on one of the basic human conditions…fear. Fear can cause normally scrupulous individuals to let their guard down and fall victim to social engineering scams, phishing scams, non-delivery scams, and auction fraud scams.
The United States Secret Service is proactively taking steps to alert the public about the types of email scams associated with the Coronavirus. The Secret Service's Global Investigative Operations Center (GIOC) reports the subsequent email scams:
"Phishing" is the fraudulent practice of sending emails purporting to be from reputable companies in order to entice individuals to reveal personal information, such as passwords and credit card numbers. Phishing scams have become ubiquitous through email communication and ecommerce. Cyber criminals are exploiting the Coronavirus through the wide distribution of mass emails posing as legitimate medical and or health organizations. In one particular instance, victims have received an email purporting to be from a medical/health organization that included attachments supposedly containing pertinent information regarding the Coronavirus. This lead to either unsuspecting victims opening the attachment causing malware to infect their system, or prompting the victim to enter their email login credentials to access the information resulting in harvested login credentials. This type of incident enables further occurrences of cyber enabled financial crimes such as Business Email Compromise (BEC), PII theft, ransomware and account takeovers. Another side effect of the Coronavirus is increased teleworking, which furthers the reliance on email for communication adding yet another multiplier to these email fraud schemes. More of these incidents are expected, and increased vigilance regarding email communication is highly encouraged.
Another emerging fraud scheme exploiting the Coronavirus is using social engineering tactics through legitimate social media websites seeking donations for charitable causes related to the virus. Criminals are exploiting the charitable spirit of individuals, seeking donations to fraudulent causes surrounding the Coronavirus. Increased caution should be exercised when donating to charitable organizations.
A third fraud scheme surrounds non-delivery scams. Essentially, criminal actors advertise as an in-demand medical supply company that sells medical supplies that can be used to prevent/protect against the Coronavirus. The criminal enterprise will demand upfront payment or initial deposits then abscond with the funds and never complete delivery of the ordered products.
Quick Tips:
Phishing Emails / Social Engineering – Avoid opening attachments and clicking on links within emails from senders you do not recognize. These attachments can contain malicious content, such as ransomware, that can infect your device and steal your information. Be leery of emails or phone calls requesting account information or requesting you to verify your account. Legitimate businesses will never call you or email you directly for this information.
Always independently verify any requested information originates from a legitimate source.
Visit websites by inputting the domain name yourself. Business use encryption, Secure Socket Layer (SSL). Certificate "errors" can be a warning sign that something is not right with the website. The United States Secret Service will continue leading the charge to combat cyber-enabled financial crimes. To learn more about the Secret Service's Investigative Mission please visit us at: www.SecretService.gov
COVID19 Tracker Apps¶
Source: Business Insider
Unsurprisingly, people are turning to the internet to get up-to-the-minute information on the coronavirus outbreak, but the thirst for information during a pandemic is a perfect opportunity for hackers. It's also a good time to remind everyone that hackers are still hard at work, even during concerning times.
An app called "COVID19 Tracker" masking itself as a coronavirus outbreak map tracker is actually ransomware that locks down your phone and demands you pay the hackers $100 in bitcoin within 48 hours, according to Chad Anderson and Tarik Saleh at internet security company DomainTools.
This app was designed for the Android operating system, and was listed to Android users searching the web for coronavirus tracking apps. To download the app, a user would have to go directly to the website where the app was hosted and download the app from there. The app was not available on the Google Play Store, according to Saleh.
The website appears to have been taken down, but variations may still be running. The sites prompt visitors to download an app, saying, "for android users: to get real-time number of coronavirus cases based on your GPS location please download the mobile app version of the website and enable 'accurate reporting' for best experience." Business Insider isn't linking or posting the name of the site.
Once opened, the app asks for access to your lock screen to give you "instant alerts when a coronavirus patient is near you." The app also asks for permission of an Android phone's accessibility settings for "active state monitoring." If an unsuspecting user grants these permissions to the app, ransomware dubbed "CovidLock" is enabled, and the screen changes to a ransom note:
"Your phone is encrypted: You have 48 hours to pay 100$ [sic] in bitcoin or everything will be erased.
1. What will be deleted? your contacts, your pictures and videos, all social media accounts will be leaked publicly and the phone memory will be completely erased
2. How to save it? you need a decryption code that will disarm the app and unlock your data back as it was before
3. How to get the decryption code? you need to send 100$ [sic] in bitcoin to the address [sic] below, click the button below to see the code
Note: Your GPS is watched and your location is known, if you try anything stupid your phone will be automatically erased"
At the end of the note is a text field where a victim is meant to enter the decryption code, and a button beneath the text field that says "Decrypt."
Saleh notes that protections against this kind of attack in the Android operating system have been in place since Android 7 "Nougat" released in 2016, just as long as the user has set a password to unlock the phone. Without an unlocking password, users are still vulnerable to attacks like the CovidLock ransomware.
Saleh said that the DomainTools security research team had reverse engineered the decryption key, and has released it publicly here so that victims could unlock their devices without paying the ransom.
When asked whether the hackers could simply generate a new decryption key, DomainTools told Business Insider that the hackers would need to rewrite the malware and redeploy it, and a new key wouldn't affect anyone who has already downloaded the infected app. "That is one of the big flaws of CovidLock," DomainTools said.
The company is also monitoring the hackers' bitcoin wallet and its activity, and DomainTools told Business Insider that no one has paid the ransom to the hackers as of yet, but the company is unsure of how many people have downloaded the app.
DomainTools advises that people obtain information regarding COVID-19 from trusted sources like government and research institutions. It also suggests that people don't open emails or click links with health-related content, as miscreants are "trying to capitalize on fear." And finally, it advises Android users to download apps exclusively from the Google Play Store, where there is less risk of downloading malware.
This isn't the first instance of malware apps masking themselves as coronavirus-related tracking apps. Last week, cybersecurity researchers identified several fake COVID-19 tracker maps that infect people's computers with malware when opened.
Don't let our small, local feel confuse you – we offer state-of-the-art, cutting edge technology that rivals the big banks. But, at American Riviera Bank, you have direct access to help when you need it.
---
Related products¶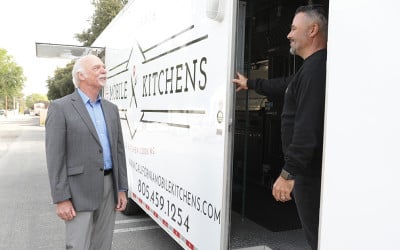 Paycheck Protection Program (PPP)¶
An SBA loan to help keep your workforce employed during the Coronavirus (COVID-19) crisis.
Customer Testimonial¶
American Riviera Bank knows and cares about our customers.
American Riviera Bank came through on the PPP loan for us as they always do, with confidence and outstanding service. Now Santa Barbara Auto Group can be here for our employees, our customers and our community
Todd Meznik, Chief Financial Officer, Santa Barbara Auto Group