About Us
American Riviera Bank opened for business on July 18, 2006 in Santa Barbara, California with the support of approximately 400 local shareholders. The Bank is a full service community bank, focused on serving the lending and deposit needs of businesses and consumers in our community. The Bank has five full-service branches, located downtown in Santa Barbara, the upper village of Montecito, near the Calle Real Shopping Center in Goleta, in downtown San Luis Obispo and downtown Paso Robles. In addition, the Bank has Residential Lending and Commercial Lending offices in Downtown Santa Barbara, and a Loan Production Office in San Luis Obispo.
As a state-chartered non-member bank, the Bank is subject to regulation by the California of Financial Protection and Innovation (DFPI), and the Federal Deposit Insurance Corporation (the "FDIC"). The Bank's deposits are insured by the FDIC up to applicable legal limits.
Mission Statement ¶
Every day, in every way, we embody the spirit of true community banking.
Core Values ¶
1. Integrity is the foundation for our actions.
Integrity is at the core of everything we do. We do what's best for our team members, clients and shareholders. Maintaining your trust is essential.
2. We value everyone.
Respect is crucial to our success. The wide range of backgrounds, ideas, expertise and talents of our diverse clients and team members is our greatest advantage.
3. We strive to do better.
Innovation isn't just about adopting new technology—it's about looking for opportunities to evolve and be better. Whether it's finding creative solutions to improve client experiences or developing team members for the next step in their career, we grow and adapt individually and as a bank.

4. We work together for the benefit of all.
Collaboration across our organization means communicating with empathy and humility as we build community with each other and our clients. The relationships that are created as we work toward a common goal are at the heart of true community banking.

5. We get the job done.
Dependability that exceeds expectations. Our team members create positive experiences by anticipating needs and solving problems.

Environmental, Social and Governance ¶
Click the image below to access the full ESG report.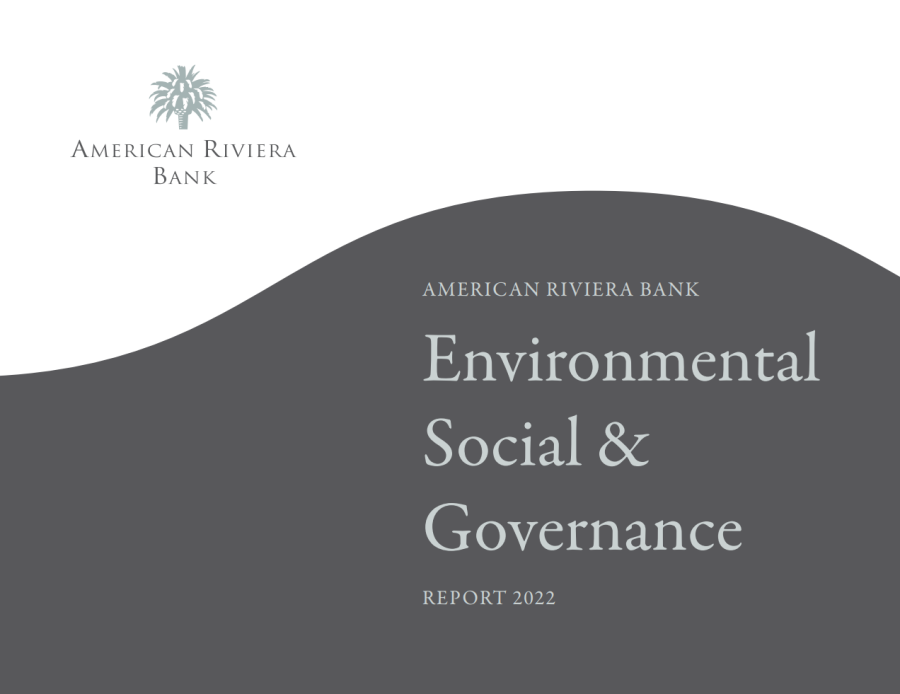 Why Us? ¶
There's certainly no shortage of banks to choose from. It's hard to go a block downtown without passing at least one bank. Although on the surface they all seem similar (each boasts a nice lobby, an ATM outside, and similar rates), we hope you'll take just a few minutes to learn why we are different. It starts at the top with access to our President and our experienced banking team. With us, you'll find it's possible to actually feel good about your bank.
Where does your money go? ¶
One of the big differences between banks is where your deposits go. At American Riviera Bank, we don't send your money off to Wall Street like other banks do. We keep it right here in your backyard in the form of loans to you, your neighbors, and local small businesses. When you bank with us, your money plays a significant role in supporting the local economy.
Who will be helping you? ¶
We understand that a lot of your banking can be done with technology (online banking, ATM, remote deposit, mobile banking - we have all the latest and greatest). But there will come a time (usually a critical one) when technology won't do, and you need a real person. That's when you'll appreciate our size. We don't have the layers that other banks do. At American Riviera Bank, you deal directly with bankers who know you personally, and have the expertise and authority to make things happen—quickly.
Is your money safe here? ¶
Since we opened our doors, we've followed a simple, low-risk community banking approach: accepting deposits and issuing loans to the local community. We could have pursued more exotic, potentially higher return investments, but not without exposing our customers' money to higher risk. Our decision to play it safe, and local, is exactly what you'd expect from a true community bank. While customers at other banks are worrying about the health and future of their bank, our Tier 1 capital ratio is well above the amount required by bank regulators to be considered well capitalized. So the answer is "yes", your money is safe at American Rivera Bank.