Customer Support
All information on "Account Information". Don't see the answer to your question below? Read another topic, search for a different keyword, or get in touch.
How do I access mobile banking?

To access mobile banking, you will need to download the app from either the App Store (iPhone) or the Google Play Store (Android). Once you have downloaded the app, login to get started.
How do I order a new debit card?

The easiest way to get a new debit card is to come into your local branch. We can print you a card and you can create your personal identification number (PIN) in the branch so the card is ready-to-use before you leave. You can also give us a call at 805 965 5942 or send us a Secure Message through online and mobile banking and we can have a card and PIN mailed to you.
Where do I find my account number?

You can find your full account number on your new account documentation, as well as on the bottom of your checks.

In online and mobile banking, you will only see the last 4 digits of your account number for security.
How does FDIC insurance work?

FDIC insurance protects deposits from loss up to the FDIC insurance limit, including principal and accrued interest. Deposits include checking accounts, NOW accounts, savings accounts, money market accounts, individual retirement accounts (IRAs) and certificates of deposit (CDs).

At American Riviera Bank, your deposits are covered by the FDIC for up to $250,000 per depositor. You may have more coverage depending on the ownership of your accounts.

Single ownership accounts are insured up to $250,000 per owner
Joint ownership accounts are insured with at least $500,000 (Up to $250,000 per co-owner)
IRAs are insured up to $250,000 per owner
Revocable trust accounts are insured up to $250,000 per owner, per beneficiary

You can use the FDIC's Electronic Deposit Insurance Estimator (EDIE) to estimate your insurance coverage.
What is a routing number and where can I find it?

Your routing number identifies the location where your account was opened. You may be asked for your checking account routing number when you're making a payment online or by phone, or when you order checks. It's also referred to as an RTN, a routing transit number or an ABA routing number.

American Riviera Bank's routing number is 122244333.

You can also find the routing number on the bottom of your checks, next to your account number.
How do I get help with my accounts?
How do I place a stop payment?
Where do I report account fraud?
How do I reorder checks?
What types of overdraft protection are available?

We offer two types of overdraft protection:
Where can I find my tax documents?
I've legally changed my name. How do I update my accounts?

Simply stop by your local branch and an associate can help you update your account information with your new name. Bring your new identification and documentation showing your name change (social security card, marriage certificate, etc.).
I'm traveling soon - what do I need to do before I go?

Traveling can be hectic, so we've made things a little easier when it comes to your ARB accounts. You can use your mobile device anywhere to access your account online.


Give us a call at 805 965 5942, stop by your local branch, or notify us through online and mobile banking with your trip details. Here's a quick list of what we need to know while you're away:

Dates you'll be traveling
The location (city/country) that you'll be visiting
A good phone number to reach you, if necessary
The cards you'd like access to while traveling
How do I add a signer to my account?

Give us a call at 805 965 5942 or stop by your local branch. You will need the following information from the new signer:

Legal Name
Social Security Number
Date of birth
Copy of Identification (CA driver's license or US Passport)
Street Address (& Mailing address, if different)
Phone Number
Email Address
Employer Name & Address
Occupation
Mother's Maiden Name
Birthplace City, State and Country
How do I make changes to my information, such as my home address, email, or phone number?
How do I open a new account?
Ask an Expert¶
Ask an Expert¶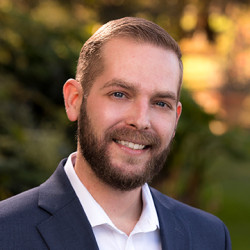 Jason Kaufman¶
Vice President, Branch Manager
Send E-mail

805 730 7869
NMLSR: #1038283
Location: Santa Barbara
LinkedIn
Bio