Shining the Light on Elder Abuse
In the last few years, the calls I receive from a friend or family member of a victim of financial elder abuse have increased exponentially. People are looking for guidance on how to stop it, or how to recover money that has been lost. Unfortunately there is no easy solution, but in today's blog post we thought we would focus on resources available for recovering from financial abuse.
World Elder Abuse Awareness Day¶
June 15 is World Elder Abuse Awareness Day (WEAAD). WEAAD is sponsored by the National Center on Elder Abuse, who has put together a comprehensive array of tools and educational materials to help increase awareness that includes an FAQ with helpful information and resources.
Elder abuse refers to intentional or negligent acts by a caregiver or trusted individual that causes harm to an older person. It can take on many forms, including:
Financial abuse and exploitation
Neglect or isolation
Physical abuse
Sexual abuse
Emotional or psychological abuse (including verbal abuse and threats).
To increase awareness of the issue, WEAAD is promoting a new #Purple Wednesday Campaign, encouraging everyone to wear purple on Wednesdays and submit a picture holding a placard that says "I wear purple because..."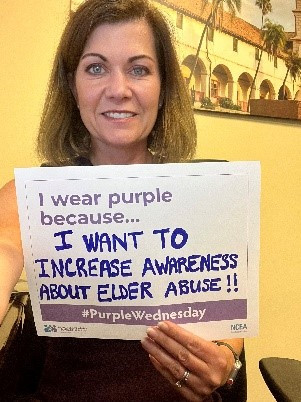 Where can I go to report a scam?¶
We've compiled a list of resources locally for reporting suspected abuse:
Santa Barbara County District Attorney Elder Abuse Unit/Fraud Hotline:
English 805-568-2442
Espaňol 805-346-7454

San Luis Obispo County District Attorney Elder Abuse Unit 805-781-5800

Long-Term Care Ombudsman to report suspected abuse at care facilities:
San Luis Obispo County 805-785-0132
Santa Barbara County 805-922-1236
Adult Protective Services 844-751-6729 to report suspected elder dependent adult abuse
There are also many resources for reporting fraud crimes/scams that originated online, even if you don't know the identity of the fraudster. The best place to start is the FBI's Internet Crime Complaint Center at https://www.ic3.gov/.
You can also report to the Federal Trade Commission at http://www.reportfraud.ftc.gov. Finally, the FTC also provides a fantastic resource for recovering from identity theft if you inadvertently provided your personal information to the fraudster at http://www.identitytheft.gov (FTC).
The Identity Theft Resource Center online also has informative resources on prevention and what to do if you are a victim of identity theft. The site includes helpful information on identity theft of the deceased, which may be useful for family members/executors of deceased clients. They also have a helpline at 1-888-400-5530.
Where can I refer someone for help who has been a victim?
We are fortunate to have many fantastic local resources:
Santa Barbara Center for Successful Aging: Senior peer counseling 805-898-8080.
San Luis Obispo Senior Peer Counseling: 805-547-7025 Ext15.
Senior Connection: Senior information and assistance service 805-928-2552.
VA Caregiver Support Line: 855-260-3274.
California Friendship Line: Emotional support, wellbeing checks 888-670-1360 https://www. ioaging.org/friendship-line-california.
The US Department of Justice also sponsors a National Elder Fraud Hotline at 1-833-372-8311. The hotline staff can help victims ages 60 and older to file reports with agencies such as the Internet Crime Complaint Center and the Federal Trade Commission. They also provide resources and support to older victims of fraud or attempted fraud.

If you or a loved one has been a victim of fraud, consider calling the National Elder Fraud Hotline. Click on the image below for additional details or visit the website directly at the link below.

https://ovc.ojp.gov/program/stop-elder-fraud/providing-help-restoring-hope
The AARP also offers a fantastic resource in the Fraud Watch Network Helpline that is available by calling 1-877-908-3360 is available for both AARP members and nonmembers. This hotline has trained volunteers to provide guidance and support in reporting fraud or solicitations. They have many additional resources to assist you, or a family member who was defrauded. It can be helpful to hear from someone outside of the family who sees daily how common these scams are. It truly can happen to everyone.
The AARP also has a Zoom-based ReST support program, with free, online hour-long support sessions almost daily for victims, caretakers and/or family members who have been victimized in a fraud/scam that originated online where they can seek emotional support with other victims or family members. You don't have to be an AARP member and can be of any age to participate. For more information and to register visit the AARP ReST page.
Are there resources to help recover assets?¶
The best offense against financial exploitation is awareness and prevention, however, there are a significant number of resources to help recover funds if a scam originated online. We also have several local resources that will provide legal aid:
Legal Aid Foundation of Santa Barbara County
Santa Maria 805-922-9909
Lompoc 805-963-6754
Santa Barbara 805-963-6754
San Luis Obispo Legal Assistance Foundation (free legal services for seniors aged 60 and older in SLO County)
805-543-5140 or SLOAF.org
In addition to these local resources, the American Bar Association maintains an Elder Abuse Resource Page to locate attorneys specializing in elder abuse at: https://www.americanbar.org/gr...
Resources to Funds Lost in Fraudulent Online Transfers¶
The FBI established the IC3 Recovery Asset Team (RAT) in February 2018 to streamline communication with financial institutions and assist FBI field offices with freezing funds for victims who made transfers to domestic accounts under fraudulent pretenses. The RAT functions as a liaison between law enforcement and financial institutions as they conduct statistical and investigative analysis.
From July 2020 – June 2021, IC3 RAT processed 1412 complaints, with a reported loss of $389,047,768.74. RAT was able to successfully freeze $279,568,471.30 from the total reported loss, leading to a 72% success rate. Of the 1412 incidents worked by RAT, 118 incidents involved victims over the age of 60 (excluding individuals reporting on behalf of a business). The reported loss for these victims totaled $18,034,615.52. RAT was able to freeze $13,585,586.34, for a success rate of 75%!! You can read more about their efforts here in their annual report.
Do they ever catch the bad guys?¶
Yes! You can visit the U.S. Department of Justice Elder Justice website for resources, trainings and press releases about recent prosecutions nationally on elder maltreatment at https://www.justice.gov/elderjustice. They also issue an annual report that includes a list of all of the cases they brought forth in the prior year. In the 2021 report, they note that last year, residents of California, Texas, Florida, and New York filed the greatest number of fraud complaints submitted by older Americans, with losses totaling approximately $362 million. Confidence fraud/romance scams ($281 million), Business Email Compromise/ Email Account Compromise (BEC/EAC) ($169 million), and tech support scams ($116 million) were responsible for the greatest loss amounts, followed closely by investment fraud totaling approximately $98 million. You can visit our website for tips on alerting yourself to potential fraud or protecting yourself against a fraudster socially engineering their way into your confidence, as well as other helpful tips for staying safe online.
We'll also be providing additional information in future blogs about how to spot these scams before they happen. In the meantime, thank you for reading!


Previous: Car Loan Costs
Next: Inflation