Personal Financial Management
American Riviera Bank Personal Financial Management tools give you a simple overview of your balances and spending; it features account aggregation, transaction categorization, data visualization widgets, transaction cleansing, and account grouping. These features help you plan for your financial future by allowing you to monitor, budget, and track your money across various financial institutions—all from a single, simple view within online banking.

Personal Financial Management (PFM) uses the services of a third party service provider to collect and distribute data from third party data sources to assemble a picture of your finances for a better understanding of your net worth. PFM also offers spending analysis and personalized alerts. While there are third parties who offer similar solutions, having a PFM integrated with online banking minimizes the security risk of using it because it's already integrated with an existing online account that you maintain with ARB! We are dedicated to providing you with a safe, secure, and dependable Online Banking service and encourage you to review the terms and conditions of the End User License Agreement for more information.
Why use a Personal Financial Management tool?¶
See all your accounts in one place. The Personal Financial Management tool provides account aggregation, allowing you to easily add external accounts (meaning, accounts that are not at American Riviera Bank) and view them together with your American Riviera Bank accounts on your online banking Home page.
Categorization is easy and automated. Simple transaction descriptions and automatic categorization can be used across both your American Riviera Bank and externally held accounts.
Great widgets to help you understand and manage your finances. You can view your personal data in a variety of ways, such as budgets, spending, net worth, debts, and trends.
Who can use it?¶
All consumer account holders with online banking can use the Personal Financial Management tool. While not intended for businesses, some sole proprietors may also benefit from the functionality. It is not available to larger business or Corporate Banking users. Business customers can export data via comma-separated (SSV), Excel, or Extensible Markup Language (XML) to import into QuickBooks or other financial management tools.
Is it available via mobile?¶
Yes! We recommend using our app, but you can also use your preferred browser on your phone.
Don't have the app? Download it now:
Go to the Apple App Store or Google Play Store and search for American Riviera Bank to download the "ARB Mobile app."
Use your online banking login credentials to login.
How do I sign up?¶
To enroll:
On the Login page, enter your Login ID and Password.
Read the PFM Agreement, then click or tap Agree or Later. If you select Agree, all PFM functionality on the Home page is enabled. If you select Later, you will be able to see the PFM widgets, but functionality will be disabled until you accept the PFM Agreement. 
How do I link accounts held at other financial institutions?¶
Linking accounts held at external financial institutions allows you to manage your finances by seeing balances and transactions all in one place, on any device. Link your credit cards, loans, checking, and savings accounts. Online banking updates data regularly so you always see accurate balances and recent transactions.
To link an account: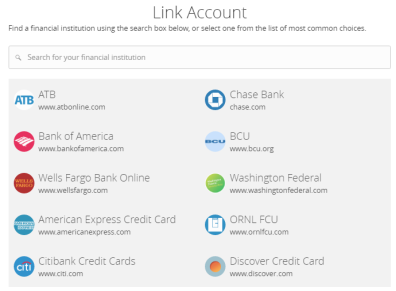 On the Home page, click or tap the Link Account button in the widget bar. Alternatively, click or tap the link account icon () above the first account group or the Link Account tile below the account groups.
When a list of popular Financial Institutions appears, select a Financial Institution by either:

Clicking or tapping the name or logo, or
Typing the name or URL in the Search box. As you type, matching Financial Institution(s) appear. Click a name to select it.

Provide your online banking credentials and click Continue. If the Financial Institution requires multi-factor authentication (MFA), you will be prompted to supply more information to complete the login.
Tip:  The time needed to aggregate accounts depends on many factors, including the external Financial Institution, number of accounts, and server speed. Click Link More Accounts to aggregate accounts from another Financial Institution. Click Close to return to the Home page where the aggregation status appears, along with any prompts for details such as account credentials.
When aggregation is complete, external accounts appear on the Link Account page, with the Hidden/Visible toggle set to Visible. Click or tap the Hidden/Visible toggle to hide an account on the Home page and in widgets.
(Optional) Repeat steps 2 through 4 to link more accounts held at other financial institutions.
Click Continue.
Note: Do not confuse linked accounts with external transfer accounts. PFM will only display data about the linked accounts. You can transfer funds between your American Riviera Bank accounts and external bank accounts by going to Services > Add External Accounts. You will need to enter the account and routing number of the account you would like to link and wait to have it verified with micro deposits. You will be able to make transfers to and from the account after it is verified.
After you link accounts, they appear in a Linked Accounts group on the Home page, providing a full financial picture. You can reorder and group accounts, as necessary. 
How do I update my login credentials for a linked account?¶
To update login credentials:
On the Home page, scroll down to the Linked Accounts group.
On the desired linked account, swipe left or click the two vertical bars, then select Update Login.
Enter your updated credentials, then click Continue. 
What about assets or accounts I don't have login credentials for?¶
The Manual accounts feature within PFM allows you to add additional accounts and assets to your banking Home page. You can manually add accounts to help build a complete picture of your financial portfolio in a single, convenient location. This feature is especially helpful if you would like your Net Worth widget within PFM to include other assets, such as your house or car.
To add an account, do the following:
Add a Manual account tile.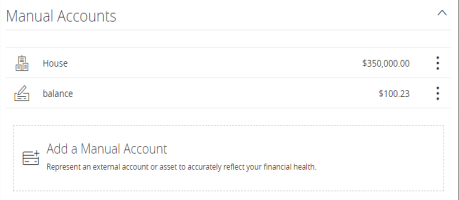 Note:  The fields displayed are dependent on the type of account you would like to add. For instance, if you select Loan under Account Type, fields such as Financial Institution, APR etc., will populate.
Navigate to the Home page and scroll down to the Add a Manual account tile.
Click or tap Add a Manual account.
In the Add a Manual account window enter your information in the following fields:

Account name
Account type
Balance

Click or tap Save to confirm your changes.
In the Success window select Done.
How do I manage manual accounts?¶
To edit your existing Manual account, navigate to the Home page and follow the steps below:
Accessing Vertical Menu

Click or tap the vertical () menu to the right of the account tile.
Select Edit account from the vertical menu.
Update the relevant account fields to change your Manual account details.
Select Save to complete your edits.
In the Success window select Done.
To delete your existing Manual account, follow the steps below:
Click or tap the three vertical dots () menu to the right of the account tile.
Select Delete account from the vertical menu.
Select Delete to confirm account deletion.
When you add a linked account in online banking, you have the option to select Visible or Hidden.
If you select Visible, the account appears on the Home page and you can access the details about it. It also appears on the Account Preferences page and you can edit the nickname, change the order in which the account appears, etc. The account is also aggregated (that is, included) in PFM.
If you select Hidden, the account does not appear on the Home page. It appears in the Hidden section of the Account Preferences page where you can modify its visibility if you change your mind, but you cannot edit the nickname, reorder the account, etc. Also, the account is not aggregated in PFM calculations. 
What are widgets and what kinds are available?¶
Widgets are tools within the Personal Financial Management tool; they allow you to easily access specific information about your finances. You can view all of your accounts in one place so you can manage your spending and debts, calculate your net worth, and see spending trends over specific time periods. Several links appear at the top of the Home page, such as Net Worth and Budget. You can click those links to display visual representation of your financial data, known as "widgets."
Each widget is interactive and displays different information:
Spending – Enables you to see a visual representation of how you are spending your money over a period of time.
Budget – Helps you set budgets for each spending category and track progress towards those categories each month.
Trends – Builds even further on your budgeting categories to help track spending over time as compared to income.
Net Worth – Allows you to see the total value of all internally-held and linked accounts to view your net worth over time.
Debts – Allows you to see all of your debt accounts in one place and to calculate how making additional payments, or paying off your debt completely, can impact your debt over time.
How do I manage transactions?¶
Account information for linked accounts is view-only. Although you can see balances and transactions and modify categories and descriptions, you cannot create new transactions for linked accounts or transfer funds between linked accounts. Instead, use the Services > External Account menu option to set up transfers to and from an external account.
How do I categorize transactions?¶
Transactions for your internal accounts and linked accounts are automatically categorized to help you accurately monitor your spending and track your budgets. In some cases, you may choose to modify the automatically-selected category. You can also modify transaction descriptions, split transactions across multiple categories, and create or edit new subcategories.
To categorize a transaction:
On the Home page, click or tap an account.
On the Account Details page, click or tap a transaction.
In the Category section, click or tap the edit icon (). Note: You can also click or tap on the category icon that appears in your transaction list on the Account Details page without expanding the transaction detail.
Select a category to assign the transaction.
(Optional) In the Online Description section, click the edit icon () to change the description of the transaction.Note:  Editing the description only changes the description within online banking, not in paper or e-statements.
To add a subcategory:
Note:  Default parent categories and subcategories cannot be edited. However, you can rename personally-created subcategories by clicking the edit icon (

) next to the subcategory name. Click the Delete icon (

) next to a personally-created subcategory to delete it.
On the Home page, click or tap an account.
On the Account Details page, click or tap the category icon next to a transaction.
On the Categorize sidebar, do the following:

Click or tap the expand arrow () on the parent category.
Click or tap +Add Sub-Category.
Enter the name of the new subcategory.
Click or tap the check mark button.
Click or tap the new subcategory to assign it to the transaction.
Can I split transaction categories?¶
You can split a single transaction across multiple categories to better manage your budget.
To split a transaction category:
On the Home page, click or tap an account. The Account Details page appears.
Click or tap a transaction. The transaction details appear.
In the transaction details, do the following:

Click or tap the split icon ( ).
Enter the amount you want to split to a separate category.
Click or tap the category icon, then select a new category for the amount you want to split.
Click or tap Add Split to continue splitting the transaction.
Note the following details about splitting transactions:
You can add up to a total of 9 splits.
After you split a transaction, you can no longer edit the Category from the transaction summary.
You cannot edit the description of an individual split.
The split amount must have a value greater than 0. If the value of the split is left at 0, the split will not be saved. 
Can I export data?¶
You can export, including categories and other available transaction data from aggregated accounts. Export formats include comma-separated values (CSV), extensible markup language (XML), and Excel (XLS).
To export data:
On the Home page, click or tap an account.
Click or tap the export icon ().
Select the export format. The file downloads to the default folder.
Customer Testimonial¶
American Riviera Bank knows and cares about our customers.
"I never knew I could love a bank, but I LOVE American Riviera Bank. They value my business, they value my time, they make my life easy."
Joanne Gronquist, O.D. with Tem Gronquist, O.D.